Dr. Mike Sosteric
Associate Professor, Sociology
Contact
Education
B.A. (High Hons.) (University of Regina)
B.A. (Hons.) (University of Regina)
M.A. (University of Regina)
Ph.D. (University of Alberta)
Special Issue of Religions
Are you a graduate student or scholar? Have you had a "mystical experience?" Care to write about it for a peer-reviewed scholarly journal? Then check out my issue in the journal Religions. Deadline for submissions is October 21, 2021. Article Processing Fees (APC) will be waived if your submission is in before September 2021.
Overview
Hi there. My name is Mike Sosteric. I am a sociologist at Athabasca University. I teach and coordinate several of the University's Sociology courses.
Sociology 231: Sociology of Religion
Sociology 287: Introduction to Sociology I
Sociology 288: Introduction to Sociology II
Sociology 301: Statistics
Sociology 420: Thinking Religion, Patriarchy, Capitalism, Ideology (proposed course)
Sociology 460: Sociology of Technology
My primary interests are in the areas of human development, human potential, human spirituality, and human transformation. You will find these concerns represented in all the courses I teach and coordinate, less so in Sociology 301. I recommend you start with Sociology 231: Sociology of Religion
Human Spirituality
When it comes to human potential and human transformation, I find human spirituality a fascinating subject. I examine not only mystical experience (what I would call connection experience) but also the political-economy, sociology, and psychology of human spirituality.
Selected Articles
Selected Preprints
Human Economics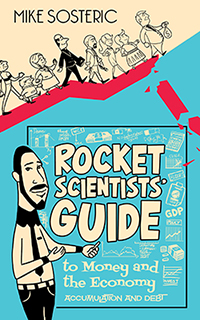 You cannot talk about human potential and human transformation without talking about money and the economy. Without sufficient money, there is no way for an individual to actualize their potential.
Unfortunately, our current global economy is one where unfettered accumulation ensures the vast majority live without the resources required to live a full and transformative life. I examine our current global economic system, the cyclic global economic crises which regularly ensue, and the pain and suffering involved, in my book, Rocket Scientists' Guide to Money and the Economy.
I also provide an educational video entitled Money Moksha to go along with the book. The video stars an animated Donald Trump, and has a cameo by Daryl Dixon. In the video, I explore how toxic addiction to money it is destroying our lives, and this world.
Educational Philosophy
Education is a critical component of human potential and human transformation. Whatever your faith or belief, it is only through education that we come to understand and realize our full human potential. It is only through education (engineering, psychology, sociology, etc.) that we transform the world. I believe education is a human right and my philosophy with regards science and education is straight forward and simple. I believe scientists and educators have a responsibility to be communicators. Whether we teach courses, write scholarly articles, create books, or produce educational multimedia, our goal must be to communicate. This is especially true when it comes to complex human phenomenon like social class, spirituality, or money. If we hide our knowledge and insight behind turgid prose and complicated EPMO, if we communicate only to a handful of specialists around the world, we have failed as scientists, educators, and human beings. As educators and scientists we try harder, both individually and as a group, to reach out directly, to share our knowledge and insight with the world. We can't leave it to Hollywood or the media. As scientists and scholars, we have to get involved.
Updated March 31 2015 by Student & Academic Services